This form is for those having participated in a USCAA event, please let us know about your experience.
I want to thank everyone for another wonderful track meet!  All of us from Northrop had a great time!!!!   We're very appreciative of what everyone does to put on such an awesome event. Thank you!!!
On behalf of the Boulder Road Runners, thanks to all for such a great event last weekend! We all truly had a wonderful time, enjoyed the camaraderie, welcoming environment, and being surrounded by runners from all over North America!!
Thanks to all of your efforts and contributions, and hard work! We look forward to the next round, and hope to bring more runners and volunteers along for the future!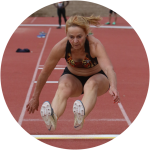 When you think you have been to great track meets and you go to the USCAA Corporate Relays…BAM!