The USCAA has moved their typically Spring Marathon to the Fall.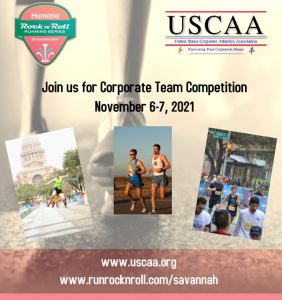 As per corporate team votes, this 36th USCAA Corporate Team Marathon, Half Marathon and 5K will be run with the Rock'n'Roll Savannah, November 6-7, 2021.
It only requires four people for a team in any one of the events and they can be men or women because the scoring is by WMA. Please take a read at the USCAA Marathon RULES.
Here are the discount codes for the corporate teams members as well as family and friends.
Marathon $99 – use code "USCAA"
Half Marathon $89 – use code "USCAA1/2"
5K $39 – use code "USCAA5K"
The Half Marathon Relay is s not part of the USCAA competition, but it can be used for family and friends.
Half Marathon Relay $119 – use code "USCAA1/2R".
USCAA Membership $10, register here
For more information email: marathon@uscaa.org